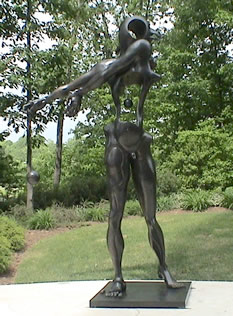 This 12' 7" tall bronze sculpture, Newton de Gala, had cloying layers of black wax, penetrating oil, and black paint concealing corrosion, patina loss, and poor repairs to the casting.
First, the inappropriate coatings were removed with a progression of solvents, exposing large areas of severe patina damage.
Unsatisfactory repairs then were replaced or reworked as appropriate.
Finally the surface was returned to its correct gloss black appearance by sensitively strengthening the existing patina rather than simply replacing it. (Private Collection)
---